Shimmer, Glitter, Iridescent
Shimmer, Glitter and all things  Iridescent, was the theme of an editorial photo shoot we had the privilege of being a part of  at  Westbury.   Again we were working with the brilliant Irene Neumann Graham  of Neumann Graham photographers. Our stunning models were Kelly on the left and Emma on the right.  The photo shoot reflects a shimmer, glittery, and iridescent trend for Spring/Summer 201, how exciting I just love sparkle.
I did Emma's (on the right) hair and makeup our brief was wet hair look, beach, sunny, shimmer contoured look.  So I used a wet look product on the hair after straightening and fasten the sides back.  Makeup used contouring, concentrating on the shimmer so that when light was used it bounced to cause an illuminated look. Eyes were dark browns and bronzes and lip quite nature.   Caroline applied the makeup to Kelly using similar colours and techniques.
The photo shoot took place at Burnham on Sea I  love the sparkle and shimmer in the background on the sea.
Below is a more dramatic moody photo of Kelly using a parachute to get the affect.  Brilliant.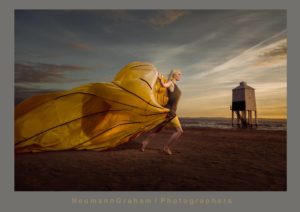 I also had some lovely pictures sent to me from a bride who had a wedding reception at Abbey House Gardens Malmesbury.   Victoria originally from this part of the country, moved and married her husband in the USA last year, but came over for  a wedding celebration with her family and friends living here.  I had the honour of applying hair and makeup.  I used the hair accessory from her wedding last year and she want a natural but classic bridal look.  On her eyes I used the couture palate by Mii Cosmetics.  This palate is full of rich brown shades that complimented Victoria's eyes and I finished with natural blush and lips.  I am sure you will agree with me that she looked beautiful.