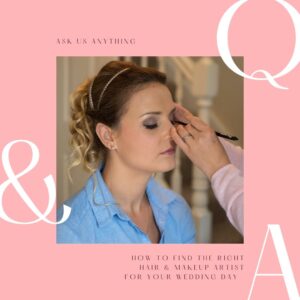 Booking a Hair and Makeup Artist
Makeup is such a personal thing that often brides are fearful of booking a hair and makeup artist. So, I thought I would list a few things that might be helpful when looking for someone to do your hair and makeup.
When booking a hair and makeup artist you need someone who is talented and professional, who communicates well and promptly replies to your enquiries. 
Someone who you will feel comfortable with on your wedding morning and will help you to feel relaxed and calm, they should be an extension of your wedding party. ⠀
⠀
Find pictures of bridal makeup styles you like by looking on Pinterest and google.  
Picture yourself wearing that makeup taking into account your colouring.
Search for a HMUA near your venue that you are getting ready at or local to your home if you are getting ready at home. 
Look at their website and social media, check out the bridal portfolios.  Make sure there are good pictures of their work.
Read reviews on social media and google. 
Create a shortlist and contact them regarding their availability , pricing and if you need a chat organise a zoom call. 
Key questions to ask them:
Can they travel on the day and will that incur any extra travel expense?
Do they do trial a if so what is the cost and how long will the trial take?
What makeup brands to they use?
How long will the hair and makeup take to do on the day?
If you have a large bridal party how many people can they realistically do on the morning of the wedding?
How much will it cost?
What happens if they fall ill or have an emergency on the day?
Once you have decide on the HMUA you want to book, secure the date in their diary, fill in the booking form and contract. 
Finally book a trial.