Has your makeup bag had a makeup bag makeover recently?  When was the last time you looked through your makeup bags? Do you know what you have in your makeup bags? Do you know when to toss out your products?
When to toss out your makeup bag products?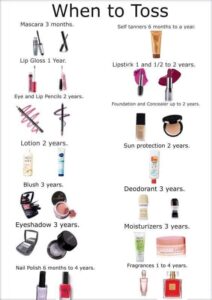 I found this chart and I thought it would be useful to take a look through your makeup bags. Hands up who has makeup in their makeup bags that is years old? Being honest my personal makeup bag needs some TLC, not my professional makeup bag, some of my makeup  needs tossing!
Makeup has a shelf life, when it is opened, it gets all types of bacteria and that can lead to skin breakouts, eye infections and infections around the mouth not good!!!
Here's a  guide of the shelf life for some makeup products!
⠀
Mascara – replace every 3 months
Lipgloss – replace every year. 
Lip and Eye pencils replace every 2 years 
Blushers and eyeshadows – replace after 3 years 
Lipstick – replace every 2 years
Foundation and concealer – replace after 2 years.⠀
New Makeup Bag Makeover Service
If you look in your makeup bag and think to yourself "I need to replace a lot of my makeup products or do these suit me?  I have just launched a new service to treat ourselves when we come out of lockdown.  We all need some self love and a bit of relaxation.   My new service is a Makeup Bag Makeover.
You are invited to my studio in Chippenham for a makeup consultation and application by myself.   We will spend time discussing your makeup needs and looking through your makeup bag.   I will then apply a new look using products that suit your skin type, tone and age.   
We will do a colour analyse so that we use the correct shades of colour that will make your face light up.   Your makeup will be defined and flawless but not over applied. I will use subtle corrective techniques that will make all the difference.
You will then be put in the spotlight and I will take some lovely portrait pictures for you to refer to at home.  You will be sent a list of products that were used, an order in which to apply the products and discount codes so that you are able to shop for  the makeup products online.  For a one to one Makeup Bag Makeover in the Studio allowing 1 hour and 30 minutes costs £60
Or if you would like to know how to apply makeup correctly, using corrective techniques to enhance your features.  Know what foundation will suit your skin type, tone and colour and how to apply it flawlessly.   Gain knowledge about the use of makeup brushes, what they are used for, how to use them etc and loads more information.   I would highly recommend you book a makeup tutorial.
These take place in my studio and we allow up to 3 hours.  They are very detailed and cover all aspects of makeup application. They are tailored to your specific needs.  Makeup tutorials are hands on and I will apply one half of your face and you will apply the other.  As with the Makeup Bag Makeover you will be sent a list of products, discount codes etc.  
A one to one makeup tutorial in the studio costs £100.