No matter whether you're a total beginner. Whether you've got 5 minutes or 55 minutes to get ready each day. Whether you want a brand new look. Or want refresh your makeup products. Our makeup lessons will help you.
Ever wondered what eyeshadow colour suits you, or how to create a smokey eye, got stuck in that makeup rut, or have just never been taught to apply makeup correctly?
Does your teenager need guidance on the right foundation for her skin and how to apply eyeliner correctly?
Our makeup lessons cover skincare and preparation, how to get that fresh, flawless look with your foundation, teaches how to apply daytime makeup and then enhance it for evening look.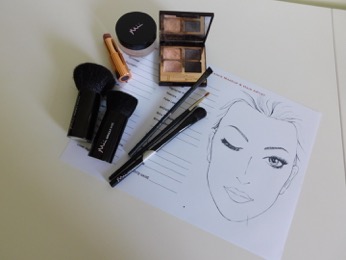 Providing lots of useful tips and knowhow from an expert. We can delve into your makeup bag and help you to get the most out of your makeup products in it. Makeup lessons can be tailored to your specific requirements. This is a hands-on experience, you will apply your makeup guided by Rachel. Its all about having a go and practice. Finally you will have a makeup chart of your own to take home and refer to as you enjoy your new look.
One to One Makeup Lesson in the Studio allow  2 -3  hours  £120
Group Makeup Lesson in Studio maximum 4 people, allow 4 hours £80  per person
Teenage 1-1 Makeup Lesson in Studio allow up to 2 hours £60 
Teenage Group Makeup Lesson in Studio maximum of 4 people, allow 4 hours £40 per person
Makeup Bag Makeovers
Why not come to our Studio in Chippenham for a Makeup Bag Makeover.   This is a makeup consultation and application by Rachel.
We will spend time discussing your makeup needs and applying a new look using products that suit your skin type, tone and age.   We will do a colour analyse so that we use the correct shades of colour that will make your face light up.   Your makeup will be defined and flawless but not over applied. Rachel will use subtle corrective techniques that will make all the difference.
You will then be put in the spotlight and Rachel will take some lovely portrait pictures for you to refer to at home.  You will be sent a list of products that were used, an order in which to apply the products and discount codes so that you are able to shop for  the makeup products online.
One to one Makeup Bag Makeover in the Studio allow 1 hour 30 minutes £70