Prom Season
It has been a busy passed couple of weeks with Prom season in full flow.   I have had the privilege to be part of Lizzie's, Emma's, Catherine's, Emily's and Ellie's proms.  All beautiful girls about to embark on the next season of their lives.
Lizzie was a Hardenhuish Second School year 11 student and she wore a pale grey/lilac dress.  Lizzie was not used to wearing a lot of makeup so want a natural look.  But I had to make it a bit glitzy as she was going to the ball.    I used a metallic silver gold called Sunbeam by Mii cosmetics with the dark side of Deep Allure which is a dark silver grey, with grey eyeliner, a natural blush and natural rose lips. Lizzie want a half up half down prom hairstyles so I curled it using a heated wand, braided the top bit into a rosette with little silver flower pins attached and Lizzie was ready to go to the ball.  Pictures of Lizzie are below.
Emma was also a Hardenhuish student but finishing 6th form.  So Emma came and had her makeup done for her 6th form prom.   She wanted something glamorous and she wore a little black dress.  So I use the Couture collection by Mii on her eyes.  but again kept her cheeks and lips quite natural.  Pictures of Emma  below.
After Lizzie and Emma came Catherine who was an Abbeyfield Secondary School year 11 student.  Catherine wanted her prom hair and makeup done.  She was wearing a beautiful red dress, so her makeup had to reflect that strong colour.  I chose golds and bronze browns with a stronger lip.  Her hair was curled and worn down.  Picture of Catherine below.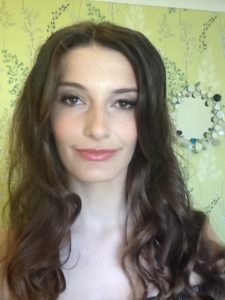 The following week I met Emily who was from Corsham Secondary School and was going to her year 11 prom.   Emily had her prom hair and makeup done, she was wearing a grecian style dark blue dress.   For her eyes I used oyster forever eye pencil with Gaze which is a navy blue eyeshadow.  To enhance the eye even more I used defining eye lining pencil Reflect which is a blue/turquoise and Opulence  a navy liquid liner.  Again I kept the cheeks and lips fairly natural.  All the products used by Mii cosmetics.  Emily wanted her hair half up half down in a braided style this time after curling her hair, I braided each side and crossed them over at the back.   Pictures of Emily below.
Last but not least I travelled over to Dilton Marsh nr Westbury to do Ellie's prom hair and makeup.   Ellie was  going to her 6th form prom at Centre Parcs.  Ellie had a pale blue dress and her hair was shoulder length.   My brief was  wavy hair down and glamorous look.  So I used silvers with a hint of navy just to tie in with her pale blue dress and kept the rest of the makeup as natural as possible.   She looked beautiful although I don't have the pictures yet.
I would like to wish them all the very best for their next steps onto further education, apprenticeships .  I wish every them success in their future careers and thank them all for allowing me to be a part of their Prom.