Inspiring News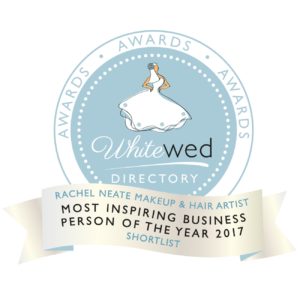 It is my privilege to have be shortlisted for the Most Inspiring Business Person of the year 2017.  I stand alongside two other awesome business women   Louise Joachim  of Wendy House Flowers and Steph Hobbs of Venues Covered  both Whitewed Directory Suppliers.  Below is a press release:
Rachel Neate Hair and Makeup Artist shortlisted in first ever The Whitewed Directory Awards
Wiltshire based Rachel Neate is shortlisted for the Most Inspiring Business Person of the Year 2017 Award
The Whitewed Directory is the region's ultimate resource for grooms and brides-to-be, offering a definitive directory of vetted and approved wedding suppliers. The Whitewed Directory Awards were launched in June this year to recognise Wiltshire and Gloucestershire's best wedding planners and suppliers.
Creator of The Whitewed Directory, Natalie Lovett, said: "Congratulations to Rachel Neate for being shortlisted in the inaugural The Whitewed Directory Awards.
"We were very pleased to launch these awards earlier this year because we wanted to recognise the high levels of professionalism and incredible standards of service we see from our many dedicated suppliers.
"It's fantastic that we have had so much interest in the awards and are delighted to have received many excellent nominations from around the region. All of our shortlisted nominees should feel very proud of themselves for this fantastic achievement and we can't wait to find out who the winners will be at our exciting awards ceremony in February."
The judges described Rachel as 'selfless' and said she was delivering a great message to all young people by using her experience and profession to help teenagers with their self-esteem.

There are three award categories, Business Person of the Year 2017, Most Inspiring Business Person of the Year 2017 and Start-up Business of the Year 2017.
The winners will be chosen by an independent judging panel made up of three highly respected industry professionals and will be announced at an awards ceremony taking place on 1st February 2018 at the Doubletree by Hilton Swindon.
The Whitewed Directory covers 40 different types of wedding suppliers throughout Wiltshire and Gloucestershire, from bands and musicians to cake designers, toastmasters and fireworks suppliers. Every company recommended has been vetted, approved and accredited with each agreeing to abide by The Whitewed Directory's strict Code of Practice. Suppliers interested in joining the directory can call Whitewed on 01793 238921 or email hello@whitewed.directory to find out more.
For more information about The Whitewed Directory Awards and the award ceremony, visit http://www.whitewed.directory/ww-awards.html
Find out more about The Whitewed Directory: http://www.whitewed.directory
Facebook: https://www.facebook.com/WhitewedDirectory
Twitter: https://twitter.com/thewhitewed