Happy New Year
Happy New Year to all my past, present and future clients.   So far this year has been a busy one and all in the space of 5 weeks.  What is really exciting is that my bookings have doubled compared to this time last year.  Amazing, thank you all I am so looking forward to meeting all my future brides and styling their hair and makeup for their special day.
This month I have been very busy exhibiting at Wedding Fairs around the county.  Firstly I was at the Royal Agricultural College at Cirencester.  It was very busy even though a grey murky day.  A beautiful building with some impressive rooms but quite an intimate feel to them.  The fair was hosted by the brilliant Whitewed Directory.
The second wedding fair I was showcasing at was at the very grand Westonbirt School.   The rooms were awesome, large and full of original features.  In our room the wall were covered in what looked like the original gold damask material. Everything was on a large scale.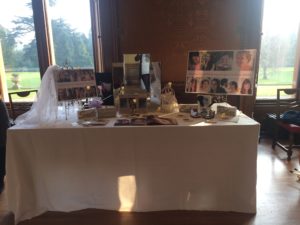 We had a great opportunity to showcase our skills.  Caroline and myself were able to style hair and makeup for four models as part of an 8 model catwalk show.  It was a great collaboration of Whitewed Directory Suppliers between myself, Wendy House Flowers, The Whitewed Directory and Trousseaux.  Much planning went into the Catwalk for my part I had to decide which hair styles would suit which dress and flowers that were going to be used.  We also had to work quickly to get everyone ready in time.  I think you will agree from the pictures below that were taken by Event Style and Clare of  Barefoot Photography it was a great success.
My last wedding fair of the season took place at MacDonald Bath Spa Hotel.  It was hosted by the Bath Wedding Emporium.  I have not exhibited at a Bath Wedding Fair before but want to expand my area.  Having attended  The Wedding Emporiums wedding fairs  before I knew it would be well organised and well attended and it was!   All images courtesy of Taking Pictures
It has been lovely meeting future brides, some of which were just starting out on their exciting journey of planning their wedding to some future brides who's wedding's were in a few months time and were just making last minute plans.  I wish all of them the best in their arrangements and hope to be able to style a few of them.